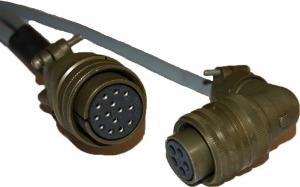 Since our formation in 1995 an emphasis on the production of high quality cable assemblies manufactured within a disciplined and controlled environment has ensured Connect-2 Technology has attracted and retained a number of prestigious customers for assemblies used in demanding situations, such as Military and Heavy Industrial applications.  Our cable assemblers are highly professional, fully trained and competent in the multi-disciplines required for working with the premium connector ranges associated with military cable assemblies.
Strict document control, thorough in-process inspections together with visual inspection procedures and 100% final electronic testing provide the high levels of assurance this sector demands.
A vast array of diverse assemblies can be produced including: Circular, Miniature- Circular, Sub-Miniature, RF & Co-axial in ruggedised and IP rated formats using connectors from manufacturers such as: -
Amphenol
Binder
Bulgin
Fischer
Glenair
Huber-Suhner
ITTCannon
Lemo
Radiall
Souriau
TYCO/Amp
Weald Electronics 
And many more
We also provide additional services such as potting to provide additional sealing and cable strain relief.
Connect-2 Technology is ideally situated to handle all of your custom Military Cable Assembly and Wiring Harness requirements.