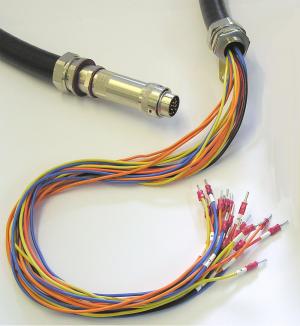 Connect-2 Technology facilitates the custom manufacture of a wide range of power and control cables utilising both standard and specialist connectors from a large number of manufacturers to provide customers with a totally flexible solution for industrial power applications.
We have built up many years of experience in producing industrial power cables, umbilical cable assemblies and pendent power assemblies for applications ranging from small hand-held control panels to larger scale equipment control such as baggage handling and hoist controls together with many configurations of high power umbilical cable assemblies.
Matching customers exact requirements....
With termination facilities up to 120mm² we can accommodate a very wide variety of wire and multi-core power cable types as well as source a large number of gland and conduit fittings to match your exact requirements.