Our capital investments are continually reviewed to ensure we are equipped with the very latest technology enabling us to provide customers with the most cost effective solutions available. Below is a selection of our automated and semi-automated equipment: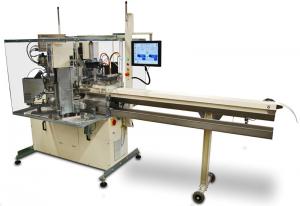 Schleuniger CrimpCentre 36
An £80K investment in the latest fully-automatic wire cutting, processing and crimping technology from Schleuniger has further strengthened our already strong line up of wire and cable processing equipment to ensure we maintain the very high levels of service and quality our customers demand.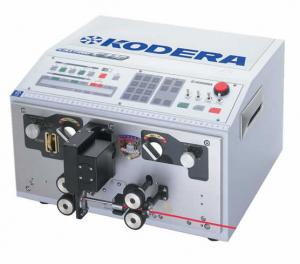 Cable Cutting Machines
Eight automated wire-cutting machines enable the processing of a vast array of single core wire, copper braid and multi-core cables together with all types of sleeving. Equipment from Kodera, Komax and Schleuniger combines precision and consistent stripping quality with high-speed processing.
Wire range: single core wires from 0.03mm² to 10mm² (32AWG – 8AWG)
Hydraulic cutting: up to 120mm²
Ribbon cable, sleeving and heat shrink up to 130mm width

Co-axial Stripper
Programmable rotary cutting of co-axial and tri-axial cables up to 11mm OD and strip lengths up to 40mm.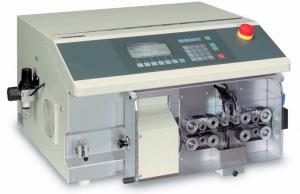 Power Stripper
Employing the latest generation technology this power stripper from Schleuniger enables cutting and stripping of multi-core power and data cables including precision stripping of inner cores.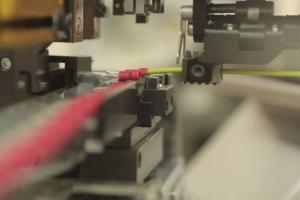 Multi Centres
A Schleuniger CrimpCentre 36 multi-tasking work centre and a Komax Gamma 311 machine provide a highly flexible and fully automated facility for processing medium to high volume batches of single wire preparations including crimp termination and/or tinning for wire lengths of 20mm and over.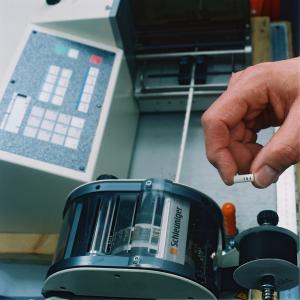 Hot Foil Printing
A Schleuniger combination of in-line hot foil printer and sleeve cutting machine enables accurate marking and cutting of idents for wire marking purposes to accommodate individual customer requirements.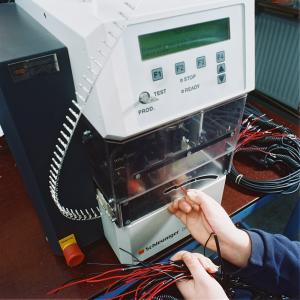 Stripper Crimpers
Fully programmable machines for the stripping and crimping of wires from 0.05 – 4 mm²(AWG 30 - 11) in one operation. Highly flexible and electronically controlled bench-top units enable precise and consistent termination of almost all open barrel terminals.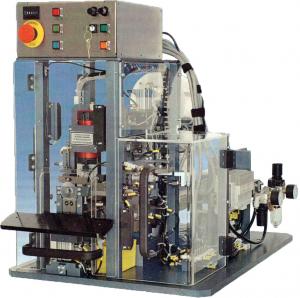 Semi-auto Barrel Crimp Termination
Due to increasing demand for assemblies manufactured with 'barrel' terminals, such as the Harwin Datamate range, we have made a significant investment in a custom manufactured semi-auto termination machine (the first in the UK). Smaller pitch sizes are becoming increasingly popular for military, computer, aerospace, medical and telecommunications applications due to high levels of performance and reliability.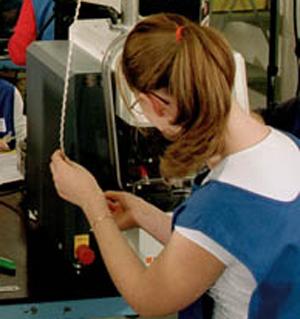 Crimp Terminal Presses
Support for all leading terminal manufacturers with a wide range of automatic tooling, including mini applicators from AMP, Molex, JST, Harwin, Cembre etc, fixed die automatic presses for pre-insulated terminals, heavy duty pneumatic presses (up to 4mm²) and heavy duty hydraulic presses (up to 120mm²).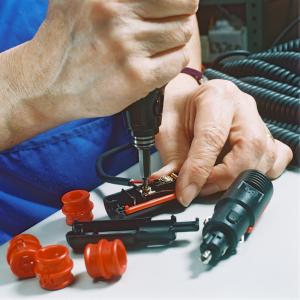 General Equipment
Our extensive range of general production tooling comprising jigs, bench tools, pillar drills, overhead power drivers, calibration and test equipment provides broad support for a diverse array of panel, box-build and general assembly work.
If you would like to request a quote or discuss your next electronics project, please complete our contact form and one of our friendly and knowledgeable team will contact you. Alternatively call 01642 492220 to speak to one of our team now.